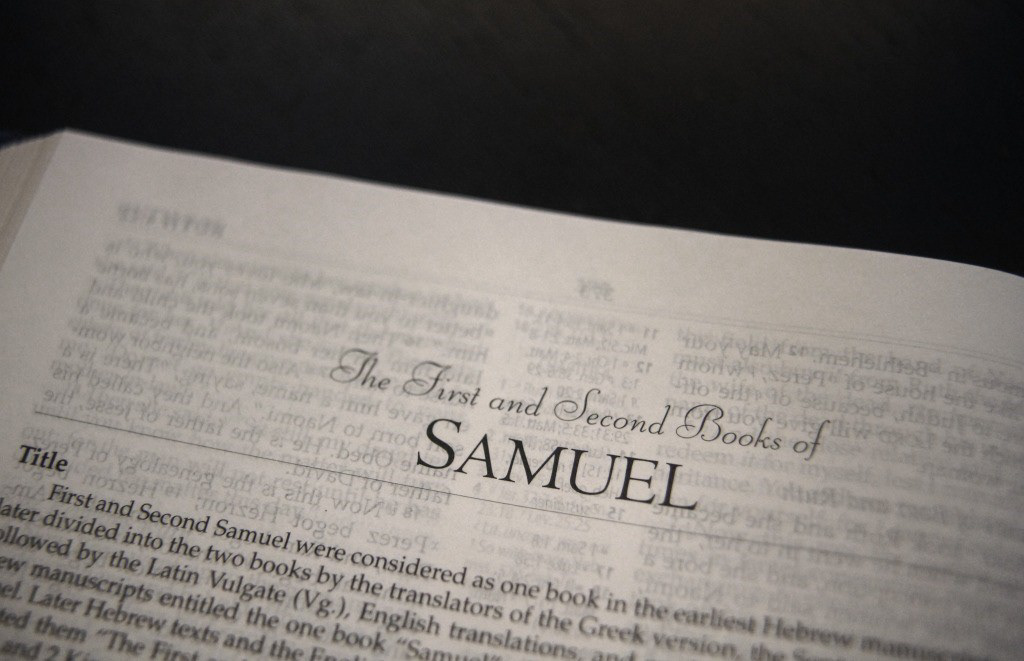 The

Lord

Is in His Holy Temple
11 
To the choirmaster. Of David.
1    In the

Lord

I take refuge;
       how can you say to my soul,
"Flee like a bird to your mountain,
2    for behold, the wicked bend the bow;
they have fitted their arrow to the string
to shoot in the dark at the upright in heart;
3    if the foundations are destroyed,
what can the righteous do?"
4    The

Lord

is in his holy temple;
the

Lord

's throne is in heaven;
his eyes see, his eyelids test the children of man.
5    The

Lord

tests the righteous,
but his soul hates the wicked and the one who loves violence.
6    Let him rain coals on the wicked;
fire and sulfur and a scorching wind shall be the portion of their cup.
7    For the

Lord

is righteous;
       he loves righteous deeds;
the upright shall behold his face.

[1]
Deliver Me from My Enemies
59 
To the choirmaster: according to Do Not Destroy. A Miktam of David, when Saul sent men to watch his house in order to kill him.
1    Deliver me from my enemies, O my God;
protect me from those who rise up against me;
2    deliver me from those who work evil,
and save me from bloodthirsty men.
3    For behold, they lie in wait for my life;
fierce men stir up strife against me.
       For no transgression or sin of mine, O

Lord

,
4        for no fault of mine, they run and make ready.
       Awake, come to meet me, and see!
5        You,

Lord

God of hosts, are God of Israel.
       Rouse yourself to punish all the nations;
spare none of those who treacherously plot evil. Selah
6    Each evening they come back,
and prowling about the city.
7    There they are, bellowing with their mouths
with swords in their lips—
for "Who," they think, "will hear us?"
8    But you, O

Lord

, laugh at them;
you hold all the nations in derision.
9    O my Strength, I will watch for you,
for you, O God, are my fortress.
10    My God in his steadfast love will meet me;
God will let me look in triumph on my enemies.
11    Kill them not, lest my people forget;
make them totter by your power and bring them down,
12    For the sin of their mouths, the words of their lips,
let them be trapped in their pride.
       For the cursing and lies that they utter,
13        consume them in wrath;
consume them till they are no more,
       that they may know that God rules over Jacob
to the ends of the earth. Selah
14    Each evening they come back,
and prowling about the city.
15    They wander about for food
and growl if they do not get their fill.
16    But I will sing of your strength;
I will sing aloud of your steadfast love in the morning.
       For you have been to me a fortress
and a refuge in the day of my distress.
17    O my Strength, I will sing praises to you,
for you, O God, are my fortress,
the God who shows me steadfast love.

[2]
21 
Then David came to Nob, to Ahimelech the priest. And Ahimelech came to meet David, trembling, and said to him, "Why are you alone, and no one with you?" 2 And David said to Ahimelech the priest, "The king has charged me with a matter and said to me, 'Let no one know anything of the matter about which I send you, and with which I have charged you.' I have made an appointment with the young men for such and such a place. 3 Now then, what do you have on hand? Give me five loaves of bread, or whatever is here." 4 And the priest answered David, "I have no common bread on hand, but there is holy bread—if the young men have kept themselves from women." 5 And David answered the priest, "Truly women have been kept from us as always when I go on an expedition. The vessels of the young men are holy even when it is an ordinary journey. How much more today will their vessels be holy?" 6 So the priest gave him the holy bread, for there was no bread there but the bread of the Presence, which is removed from before the

Lord

, to be replaced by hot bread on the day it is taken away.
7 
Now a certain man of the servants of Saul was there that day, detained before the

Lord

. His name was Doeg the Edomite, the chief of Saul's herdsmen.
8 
Then David said to Ahimelech, "Then have you not here a spear or a sword at hand? For I have brought neither my sword nor my weapons with me, because the king's business required haste." 9 And the priest said, "The sword of Goliath the Philistine, whom you struck down in the Valley of Elah, behold, it is here wrapped in a cloth behind the ephod. If you will take that, take it, for there is none but that here." And David said, "There is none like that; give it to me."
10 
And David rose and fled that day from Saul and went to Achish the king of Gath. 11 And the servants of Achish said to him, "Is not this David the king of the land? Did they not sing to one another of him in dances,
       'Saul has struck down his thousands,
and David his ten thousands'?"
12 
And David took these words to heart and was much afraid of Achish the king of Gath. 13 So he changed his behavior before them and pretended to be insane in their hands and made marks on the doors of the gate and let his spittle run down his beard. 14 Then Achish said to his servants, "Behold, you see the man is mad. Why then have you brought him to me? 15 Do I lack madmen, that you have brought this fellow to behave as a madman in my presence? Shall this fellow come into my house?"
David at the Cave of Adullam
22 
David departed from there and escaped to the cave of Adullam. And when his brothers and all his father's house heard it, they went down there to him. 2 And everyone who was in distress, and everyone who was in debt, and everyone who was bitter in soul, gathered to him. And he became commander over them. And there were with him about four hundred men.
3 
And David went from there to Mizpeh of Moab. And he said to the king of Moab, "Please let my father and my mother stay with you, till I know what God will do for me." 4 And he left them with the king of Moab, and they stayed with him all the time that David was in the stronghold. 5 Then the prophet Gad said to David, "Do not remain in the stronghold; depart, and go into the land of Judah." So David departed and went into the forest of Hereth.
Saul Kills the Priests at Nob
6 
Now Saul heard that David was discovered, and the men who were with him. Saul was sitting at Gibeah under the tamarisk tree on the height with his spear in his hand, and all his servants were standing about him. 7 And Saul said to his servants who stood about him, "Hear now, people of Benjamin; will the son of Jesse give every one of you fields and vineyards, will he make you all commanders of thousands and commanders of hundreds, 8 that all of you have conspired against me? No one discloses to me when my son makes a covenant with the son of Jesse. None of you is sorry for me or discloses to me that my son has stirred up my servant against me, to lie in wait, as at this day." 9 Then answered Doeg the Edomite, who stood by the servants of Saul, "I saw the son of Jesse coming to Nob, to Ahimelech the son of Ahitub, 10 and he inquired of the

Lord

for him and gave him provisions and gave him the sword of Goliath the Philistine."
11 
Then the king sent to summon Ahimelech the priest, the son of Ahitub, and all his father's house, the priests who were at Nob, and all of them came to the king. 12 And Saul said, "Hear now, son of Ahitub." And he answered, "Here I am, my lord." 13 And Saul said to him, "Why have you conspired against me, you and the son of Jesse, in that you have given him bread and a sword and have inquired of God for him, so that he has risen against me, to lie in wait, as at this day?" 14 Then Ahimelech answered the king, "And who among all your servants is so faithful as David, who is the king's son-in-law, and captain over your bodyguard, and honored in your house? 15 Is today the first time that I have inquired of God for him? No! Let not the king impute anything to his servant or to all the house of my father, for your servant has known nothing of all this, much or little." 16 And the king said, "You shall surely die, Ahimelech, you and all your father's house." 17 And the king said to the guard who stood about him, "Turn and kill the priests of the

Lord

, because their hand also is with David, and they knew that he fled and did not disclose it to me." But the servants of the king would not put out their hand to strike the priests of the

Lord

. 18 Then the king said to Doeg, "You turn and strike the priests." And Doeg the Edomite turned and struck down the priests, and he killed on that day eighty-five persons who wore the linen ephod. 19 And Nob, the city of the priests, he put to the sword; both man and woman, child and infant, ox, donkey and sheep, he put to the sword.
20 
But one of the sons of Ahimelech the son of Ahitub, named Abiathar, escaped and fled after David. 21 And Abiathar told David that Saul had killed the priests of the

Lord

. 22 And David said to Abiathar, "I knew on that day, when Doeg the Edomite was there, that he would surely tell Saul. I have occasioned the death of all the persons of your father's house. 23 Stay with me; do not be afraid, for he who seeks my life seeks your life. With me you shall be in safekeeping."
David Saves the City of Keilah
23 
Now they told David, "Behold, the Philistines are fighting against Keilah and are robbing the threshing floors." 2 Therefore David inquired of the

Lord

, "Shall I go and attack these Philistines?" And the

Lord

said to David, "Go and attack the Philistines and save Keilah." 3 But David's men said to him, "Behold, we are afraid here in Judah; how much more then if we go to Keilah against the armies of the Philistines?" 4 Then David inquired of the

Lord

again. And the

Lord

answered him, "Arise, go down to Keilah, for I will give the Philistines into your hand." 5 And David and his men went to Keilah and fought with the Philistines and brought away their livestock and struck them with a great blow. So David saved the inhabitants of Keilah.
6 
When Abiathar the son of Ahimelech had fled to David to Keilah, he had come down with an ephod in his hand. 7 Now it was told Saul that David had come to Keilah. And Saul said, "God has given him into my hand, for he has shut himself in by entering a town that has gates and bars." 8 And Saul summoned all the people to war, to go down to Keilah, to besiege David and his men. 9 David knew that Saul was plotting harm against him. And he said to Abiathar the priest, "Bring the ephod here." 10 Then David said, "O

Lord

, the God of Israel, your servant has surely heard that Saul seeks to come to Keilah, to destroy the city on my account. 11 Will the men of Keilah surrender me into his hand? Will Saul come down, as your servant has heard? O

Lord

, the God of Israel, please tell your servant." And the

Lord

said, "He will come down." 12 Then David said, "Will the men of Keilah surrender me and my men into the hand of Saul?" And the

Lord

said, "They will surrender you." 13 Then David and his men, who were about six hundred, arose and departed from Keilah, and they went wherever they could go. When Saul was told that David had escaped from Keilah, he gave up the expedition. 14 And David remained in the strongholds in the wilderness, in the hill country of the wilderness of Ziph. And Saul sought him every day, but God did not give him into his hand.
15 
David saw that Saul had come out to seek his life. David was in the wilderness of Ziph at Horesh. 16 And Jonathan, Saul's son, rose and went to David at Horesh, and strengthened his hand in God. 17 And he said to him, "Do not fear, for the hand of Saul my father shall not find you. You shall be king over Israel, and I shall be next to you. Saul my father also knows this." 18 And the two of them made a covenant before the

Lord

. David remained at Horesh, and Jonathan went home.
19 
Then the Ziphites went up to Saul at Gibeah, saying, "Is not David hiding among us in the strongholds at Horesh, on the hill of Hachilah, which is south of Jeshimon? 20 Now come down, O king, according to all your heart's desire to come down, and our part shall be to surrender him into the king's hand." 21 And Saul said, "May you be blessed by the

Lord

, for you have had compassion on me. 22 Go, make yet more sure. Know and see the place where his foot is, and who has seen him there, for it is told me that he is very cunning. 23 See therefore and take note of all the lurking places where he hides, and come back to me with sure information. Then I will go with you. And if he is in the land, I will search him out among all the thousands of Judah." 24 And they arose and went to Ziph ahead of Saul.
Now David and his men were in the wilderness of Maon, in the Arabah to the south of Jeshimon. 25 And Saul and his men went to seek him. And David was told, so he went down to the rock and lived in the wilderness of Maon. And when Saul heard that, he pursued after David in the wilderness of Maon. 26 Saul went on one side of the mountain, and David and his men on the other side of the mountain. And David was hurrying to get away from Saul. As Saul and his men were closing in on David and his men to capture them, 27 a messenger came to Saul, saying, "Hurry and come, for the Philistines have made a raid against the land." 28 So Saul returned from pursuing after David and went against the Philistines. Therefore that place was called the Rock of Escape. 29  And David went up from there and lived in the strongholds of Engedi.
24 
When Saul returned from following the Philistines, he was told, "Behold, David is in the wilderness of Engedi." 2 Then Saul took three thousand chosen men out of all Israel and went to seek David and his men in front of the Wildgoats' Rocks. 3 And he came to the sheepfolds by the way, where there was a cave, and Saul went in to relieve himself. Now David and his men were sitting in the innermost parts of the cave. 4 And the men of David said to him, "Here is the day of which the

Lord

said to you, 'Behold, I will give your enemy into your hand, and you shall do to him as it shall seem good to you.' " Then David arose and stealthily cut off a corner of Saul's robe. 5 And afterward David's heart struck him, because he had cut off a corner of Saul's robe. 6 He said to his men, "The

Lord

forbid that I should do this thing to my lord, the

Lord

's anointed, to put out my hand against him, seeing he is the

Lord

's anointed." 7 So David persuaded his men with these words and did not permit them to attack Saul. And Saul rose up and left the cave and went on his way.
8 
Afterward David also arose and went out of the cave, and called after Saul, "My lord the king!" And when Saul looked behind him, David bowed with his face to the earth and paid homage. 9 And David said to Saul, "Why do you listen to the words of men who say, 'Behold, David seeks your harm'? 10 Behold, this day your eyes have seen how the

Lord

gave you today into my hand in the cave. And some told me to kill you, but I spared you. I said, 'I will not put out my hand against my lord, for he is the

Lord

's anointed.' 11 See, my father, see the corner of your robe in my hand. For by the fact that I cut off the corner of your robe and did not kill you, you may know and see that there is no wrong or treason in my hands. I have not sinned against you, though you hunt my life to take it. 12 May the

Lord

judge between me and you, may the

Lord

avenge me against you, but my hand shall not be against you. 13 As the proverb of the ancients says, 'Out of the wicked comes wickedness.' But my hand shall not be against you. 14 After whom has the king of Israel come out? After whom do you pursue? After a dead dog! After a flea! 15 May the

Lord

therefore be judge and give sentence between me and you, and see to it and plead my cause and deliver me from your hand."
16 
As soon as David had finished speaking these words to Saul, Saul said, "Is this your voice, my son David?" And Saul lifted up his voice and wept. 17 He said to David, "You are more righteous than I, for you have repaid me good, whereas I have repaid you evil. 18 And you have declared this day how you have dealt well with me, in that you did not kill me when the

Lord

put me into your hands. 19 For if a man finds his enemy, will he let him go away safe? So may the

Lord

reward you with good for what you have done to me this day. 20 And now, behold, I know that you shall surely be king, and that the kingdom of Israel shall be established in your hand. 21 Swear to me therefore by the

Lord

that you will not cut off my offspring after me, and that you will not destroy my name out of my father's house." 22 And David swore this to Saul. Then Saul went home, but David and his men went up to the stronghold.

[3]
7 
A Shiggaion of David, which he sang to the Lord concerning the words of Cush, a Benjaminite.
1    O

Lord

my God, in you do I take refuge;
save me from all my pursuers and deliver me,
2    lest like a lion they tear my soul apart,
rending it in pieces, with none to deliver.
3    O

Lord

my God, if I have done this,
if there is wrong in my hands,
4    if I have repaid my friend with evil
or plundered my enemy without cause,
5    let the enemy pursue my soul and overtake it,
and let him trample my life to the ground
and lay my glory in the dust. Selah
6    Arise, O

Lord

, in your anger;
lift yourself up against the fury of my enemies;
awake for me; you have appointed a judgment.
7    Let the assembly of the peoples be gathered about you;
8    The

Lord

judges the peoples;
judge me, O

Lord

, according to my righteousness
and according to the integrity that is in me.
9    Oh, let the evil of the wicked come to an end,
and may you establish the righteous—
       you who test the minds and hearts,
10    My shield is with God,
who saves the upright in heart.
11    God is a righteous judge,
and a God who feels indignation every day.
12    If a man does not repent, God will whet his sword;
he has bent and readied his bow;
13    he has prepared for him his deadly weapons,
making his arrows fiery shafts.
14    Behold, the wicked man conceives evil
and is pregnant with mischief
15    He makes a pit, digging it out,
and falls into the hole that he has made.
16    His mischief returns upon his own head,
and on his own skull his violence descends.
17    I will give to the

Lord

the thanks due to his righteousness,
and I will sing praise to the name of the

Lord

, the Most High.

[4]
The

Lord

Is My Light and My Salvation
1    The

Lord

is my light and my salvation;
       The

Lord

is the stronghold of my life;
of whom shall I be afraid?
2    When evildoers assail me
it is they who stumble and fall.
3    Though an army encamp against me,
       though war arise against me,
4    One thing have I asked of the

Lord

,
       that I may dwell in the house of the

Lord
       to gaze upon the beauty of the

Lord
and to inquire in his temple.
5    For he will hide me in his shelter
       he will conceal me under the cover of his tent;
he will lift me high upon a rock.
6    And now my head shall be lifted up
above my enemies all around me,
       and I will offer in his tent
sacrifices with shouts of joy;
       I will sing and make melody to the

Lord

.
7    Hear, O

Lord

, when I cry aloud;
be gracious to me and answer me!
8    You have said, "Seek my face."
"Your face,

Lord

, do I seek."
9        Hide not your face from me.
       Turn not your servant away in anger,
O you who have been my help.
       Cast me not off; forsake me not,
10    For my father and my mother have forsaken me,
but the

Lord

will take me in.
11    Teach me your way, O

Lord

,
and lead me on a level path
12    Give me not up to the will of my adversaries;
for false witnesses have risen against me,
and they breathe out violence.
13    I believe that I shall look upon the goodness of the

Lord
in the land of the living!
be strong, and let your heart take courage;
            We begin and end todays readings with Psalms credited to David. David's emotions are immense as he goes through trials and tribulations yet always turns to look and praise his Creator. Through good and bad David seeks wisdom and understanding from the Lord, and even when things seem to be going astray David yields to faith and trust in the Almighty. A prime example of this is seen in ch. 24 and Steinmann explains it best in "Called to be Gods people" when he says:
"The narrative of David sparing Saul cannot be appreciated without considering the history that leads up to it. Saul's hostility may have sparked a fire in him at David's anointing, but it became a raging fire after David defeated Goliath and the people sang, "Saul has slain his thousands and David his ten thousands" (1 Sam 18:7). Time after time the narrative relates how Saul is collapsing into ruin while David is soaring. For example, 1 Samuel 18:12–16 reports that Saul is afraid, whereas David is wise in the Lord. Saul is isolated, whereas David is out with the people, and the people love him. David's noble character is further contrasted to Saul's evil by the relationship between David and Jonathan. Jonathan reveals a faithful disposition toward David and their conversations confirm the reader's assessment of the action. Saul is increasingly evil in his hunt, David is increasingly wise and noble as the hunted.
The incident in the cave has almost comic features. David and his men are all hiding while Saul attends to his needs. In the meantime, David's men are urging him to kill his pursuer and be done with it. This seems to be the wise thing to do, especially by human standards. But David, knowing his limitations, refuses to take up his own cause, especially against one already anointed by the Lord. David's cutting of Saul's robe actually magnifies his humility as it provides the occasion for David's regret and confession (1 Sam 24:5–16). David knows he has no authority to choose whom he may strike, but that his life and victory depend at all times on acting according to the Lord's will. The circumstance in the cave leads to David's appeal and Saul's remorse."

[6]
David is a man after Gods own heart, to be filled with deep respect for Saul who is hunting him could almost be unnerving for people like you and me. Regardless of everything Saul has done David will not attack Gods anointed. "The rest of scripture is consistent with the principles evident here. Authority comes from God (Rom 13). Those without authority are not to take up their own cause. Rather they are to act in the best interest of others, especially those who wrongfully persecute them (Matt 5:38–48, Rom 12:17–21). Thus, the power and knowledge of God provide for a faith that will not be disappointed. Such a faith produces behavior that protects the lives of others, victim and aggressor alike."
[7]
Can we say the same for our actions? Do we act in such a way when hunted? How many Christians do you hear say that the attacks on our faith are too much and often seek to take matters into our own hands? Perhaps we should look to engage those who persecute us in such a way as David.