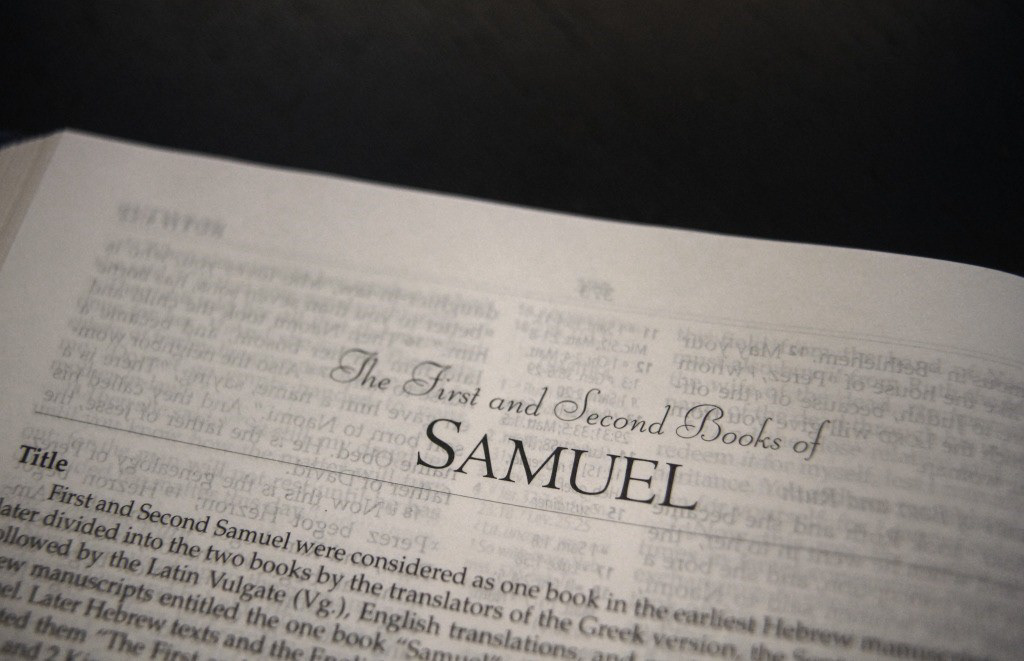 Psalms 31, 34, 52, 56, 120, 140-142
Into Your Hand I Commit My Spirit
31 To the choirmaster. A Psalm of David.
1    In you, O Lord, do I take refuge;
let me never be put to shame;
in your righteousness deliver me!
2    Incline your ear to me;
rescue me speedily!
       Be a rock of refuge for me,
a strong fortress to save me!
3    For you are my rock and my fortress;
and for your name's sake you lead me and guide me;
4    you take me out of the net they have hidden for me,
for you are my refuge.
5    Into your hand I commit my spirit;
you have redeemed me, O Lord, faithful God.
6    I hate those who pay regard to worthless idols,
but I trust in the Lord.
7    I will rejoice and be glad in your steadfast love,
because you have seen my affliction;
you have known the distress of my soul,
8    and you have not delivered me into the hand of the enemy;
you have set my feet in a broad place.
9    Be gracious to me, O Lord, for I am in distress;
my eye is wasted from grief;
my soul and my body also.
10    For my life is spent with sorrow,
and my years with sighing;
       my strength fails because of my iniquity,
and my bones waste away.
11    Because of all my adversaries I have become a reproach,
especially to my neighbors,
       and an object of dread to my acquaintances;
those who see me in the street flee from me.
12    I have been forgotten like one who is dead;
I have become like a broken vessel.
13    For I hear the whispering of many—
terror on every side!—
       as they scheme together against me,
as they plot to take my life.
14    But I trust in you, O Lord;
I say, "You are my God."
15    My times are in your hand;
rescue me from the hand of my enemies and from my persecutors!
16    Make your face shine on your servant;
save me in your steadfast love!
17    O Lord, let me not be put to shame,
for I call upon you;
       let the wicked be put to shame;
let them go silently to Sheol.
18    Let the lying lips be mute,
which speak insolently against the righteous
in pride and contempt.
19    Oh, how abundant is your goodness,
which you have stored up for those who fear you
       and worked for those who take refuge in you,
in the sight of the children of mankind!
20    In the cover of your presence you hide them
from the plots of men;
       you store them in your shelter
from the strife of tongues.
21    Blessed be the Lord,
for he has wondrously shown his steadfast love to me
when I was in a besieged city.
22    I had said in my alarm,
"I am cut off from your sight."
       But you heard the voice of my pleas for mercy
when I cried to you for help.
23    Love the Lord, all you his saints!
The Lord preserves the faithful
but abundantly repays the one who acts in pride.
24    Be strong, and let your heart take courage,
Taste and See That the Lord Is Good
34  Of David, when he changed his behavior before Abimelech, so that he drove him out, and he went away.
1    I will bless the Lord at all times;
his praise shall continually be in my mouth.
2    My soul makes its boast in the Lord;
let the humble hear and be glad.
3    Oh, magnify the Lord with me,
and let us exalt his name together!
4    I sought the Lord, and he answered me
and delivered me from all my fears.
5    Those who look to him are radiant,
and their faces shall never be ashamed.
6    This poor man cried, and the Lord heard him
and saved him out of all his troubles.
7    The angel of the Lord encamps
around those who fear him, and delivers them.
8    Oh, taste and see that the Lord is good!
Blessed is the man who takes refuge in him!
9    Oh, fear the Lord, you his saints,
for those who fear him have no lack!
10    The young lions suffer want and hunger;
but those who seek the Lord lack no good thing.
11    Come, O children, listen to me;
I will teach you the fear of the Lord.
12    What man is there who desires life
and loves many days, that he may see good?
13    Keep your tongue from evil
and your lips from speaking deceit.
14    Turn away from evil and do good;
seek peace and pursue it.
15    The eyes of the Lord are toward the righteous
and his ears toward their cry.
16    The face of the Lord is against those who do evil,
to cut off the memory of them from the earth.
17    When the righteous cry for help, the Lord hears
and delivers them out of all their troubles.
18    The Lord is near to the brokenhearted
and saves the crushed in spirit.
19    Many are the afflictions of the righteous,
but the Lord delivers him out of them all.
20    He keeps all his bones;
not one of them is broken.
21    Affliction will slay the wicked,
and those who hate the righteous will be condemned.
22    The Lord redeems the life of his servants;
The Steadfast Love of God Endures
52 To the choirmaster. A Maskil of David, when Doeg, the Edomite, came and told Saul, "David has come to the house of Ahimelech."
1    Why do you boast of evil, O mighty man?
The steadfast love of God endures all the day.
2    Your tongue plots destruction,
like a sharp razor, you worker of deceit.
3    You love evil more than good,
and lying more than speaking what is right. Selah
4    You love all words that devour,
O deceitful tongue.
5    But God will break you down forever;
he will snatch and tear you from your tent;
he will uproot you from the land of the living. Selah
6    The righteous shall see and fear,
and shall laugh at him, saying,
7    "See the man who would not make
God his refuge,
       but trusted in the abundance of his riches
and sought refuge in his own destruction!"
8    But I am like a green olive tree
in the house of God.
       I trust in the steadfast love of God
forever and ever.
9    I will thank you forever,
because you have done it.
       I will wait for your name, for it is good,
In God I Trust
56 To the choirmaster: according to The Dove on Far-off Terebinths. A Miktam of David, when the Philistines seized him in Gath.
1    Be gracious to me, O God, for man tramples on me;
all day long an attacker oppresses me;
2    my enemies trample on me all day long,
for many attack me proudly.
3    When I am afraid,
I put my trust in you.
4    In God, whose word I praise,
in God I trust; I shall not be afraid.
What can flesh do to me?
5    All day long they injure my cause;
all their thoughts are against me for evil.
6    They stir up strife, they lurk;
they watch my steps,
as they have waited for my life.
7    For their crime will they escape?
In wrath cast down the peoples, O God!
8    You have kept count of my tossings;
put my tears in your bottle.
Are they not in your book?
9    Then my enemies will turn back
in the day when I call.
This I know, that God is for me.
10    In God, whose word I praise,
in the Lord, whose word I praise,
11    in God I trust; I shall not be afraid.
What can man do to me?
12    I must perform my vows to you, O God;
I will render thank offerings to you.
13    For you have delivered my soul from death,
yes, my feet from falling,
       that I may walk before God
Deliver Me, O Lord
120 A Song of Ascents.
1    In my distress I called to the Lord,
and he answered me.
2    Deliver me, O Lord,
from lying lips,
from a deceitful tongue.
3    What shall be given to you,
and what more shall be done to you,
you deceitful tongue?
4    A warrior's sharp arrows,
with glowing coals of the broom tree!
5    Woe to me, that I sojourn in Meshech,
that I dwell among the tents of Kedar!
6    Too long have I had my dwelling
among those who hate peace.
7    I am for peace,
Deliver Me, O Lord, from Evil Men
140 To the choirmaster. A Psalm of David.
1    Deliver me, O Lord, from evil men;
preserve me from violent men,
2    who plan evil things in their heart
and stir up wars continually.
3    They make their tongue sharp as a serpent's,
and under their lips is the venom of asps. Selah
4    Guard me, O Lord, from the hands of the wicked;
preserve me from violent men,
who have planned to trip up my feet.
5    The arrogant have hidden a trap for me,
and with cords they have spread a net;
beside the way they have set snares for me. Selah
6    I say to the Lord, You are my God;
give ear to the voice of my pleas for mercy, O Lord!
7    O Lord, my Lord, the strength of my salvation,
you have covered my head in the day of battle.
8    Grant not, O Lord, the desires of the wicked;
do not further their evil plot, or they will be exalted! Selah
9    As for the head of those who surround me,
let the mischief of their lips overwhelm them!
10    Let burning coals fall upon them!
Let them be cast into fire,
into miry pits, no more to rise!
11    Let not the slanderer be established in the land;
let evil hunt down the violent man speedily!
12    I know that the Lord will maintain the cause of the afflicted,
and will execute justice for the needy.
13    Surely the righteous shall give thanks to your name;
the upright shall dwell in your presence.
Give Ear to My Voice
141 A Psalm of David.
1    O Lord, I call upon you; hasten to me!
Give ear to my voice when I call to you!
2    Let my prayer be counted as incense before you,
and the lifting up of my hands as the evening sacrifice!
3    Set a guard, O Lord, over my mouth;
keep watch over the door of my lips!
4    Do not let my heart incline to any evil,
to busy myself with wicked deeds
       in company with men who work iniquity,
and let me not eat of their delicacies!
5    Let a righteous man strike me—it is a kindness;
let him rebuke me—it is oil for my head;
let my head not refuse it.
       Yet my prayer is continually against their evil deeds.
6    When their judges are thrown over the cliff,
then they shall hear my words, for they are pleasant.
7    As when one plows and breaks up the earth,
so shall our bones be scattered at the mouth of Sheol.
8    But my eyes are toward you, O God, my Lord;
in you I seek refuge; leave me not defenseless!
9    Keep me from the trap that they have laid for me
and from the snares of evildoers!
10    Let the wicked fall into their own nets,
while I pass by safely.
You Are My Refuge
142 A Maskil of David, when he was in the cave. A Prayer.
1    With my voice I cry out to the Lord;
with my voice I plead for mercy to the Lord.
2    I pour out my complaint before him;
I tell my trouble before him.
3    When my spirit faints within me,
you know my way!
       In the path where I walk
they have hidden a trap for me.
4    Look to the right and see:
there is none who takes notice of me;
       no refuge remains to me;
no one cares for my soul.
5    I cry to you, O Lord;
I say, "You are my refuge,
my portion in the land of the living."
6    Attend to my cry,
for I am brought very low!
       Deliver me from my persecutors,
for they are too strong for me!
7    Bring me out of prison,
that I may give thanks to your name!
       The righteous will surround me,
1 Samuel 25
The Death of Samuel
25 Now Samuel died. And all Israel assembled and mourned for him, and they buried him in his house at Ramah.
David and Abigail
Then David rose and went down to the wilderness of Paran. 2 And there was a man in Maon whose business was in Carmel. The man was very rich; he had three thousand sheep and a thousand goats. He was shearing his sheep in Carmel. 3 Now the name of the man was Nabal, and the name of his wife Abigail. The woman was discerning and beautiful, but the man was harsh and badly behaved; he was a Calebite. 4 David heard in the wilderness that Nabal was shearing his sheep. 5 So David sent ten young men. And David said to the young men, "Go up to Carmel, and go to Nabal and greet him in my name. 6 And thus you shall greet him: 'Peace be to you, and peace be to your house, and peace be to all that you have. 7 I hear that you have shearers. Now your shepherds have been with us, and we did them no harm, and they missed nothing all the time they were in Carmel. 8 Ask your young men, and they will tell you. Therefore let my young men find favor in your eyes, for we come on a feast day. Please give whatever you have at hand to your servants and to your son David.' "
9 When David's young men came, they said all this to Nabal in the name of David, and then they waited. 10 And Nabal answered David's servants, "Who is David? Who is the son of Jesse? There are many servants these days who are breaking away from their masters. 11 Shall I take my bread and my water and my meat that I have killed for my shearers and give it to men who come from I do not know where?" 12 So David's young men turned away and came back and told him all this. 13 And David said to his men, "Every man strap on his sword!" And every man of them strapped on his sword. David also strapped on his sword. And about four hundred men went up after David, while two hundred remained with the baggage.
14 But one of the young men told Abigail, Nabal's wife, "Behold, David sent messengers out of the wilderness to greet our master, and he railed at them. 15 Yet the men were very good to us, and we suffered no harm, and we did not miss anything when we were in the fields, as long as we went with them. 16 They were a wall to us both by night and by day, all the while we were with them keeping the sheep. 17 Now therefore know this and consider what you should do, for harm is determined against our master and against all his house, and he is such a worthless man that one cannot speak to him."
18 Then Abigail made haste and took two hundred loaves and two skins of wine and five sheep already prepared and five seahs of parched grain and a hundred clusters of raisins and two hundred cakes of figs, and laid them on donkeys. 19 And she said to her young men, "Go on before me; behold, I come after you." But she did not tell her husband Nabal. 20 And as she rode on the donkey and came down under cover of the mountain, behold, David and his men came down toward her, and she met them. 21 Now David had said, "Surely in vain have I guarded all that this fellow has in the wilderness, so that nothing was missed of all that belonged to him, and he has returned me evil for good. 22 God do so to the enemies of David and more also, if by morning I leave so much as one male of all who belong to him."
23 When Abigail saw David, she hurried and got down from the donkey and fell before David on her face and bowed to the ground. 24 She fell at his feet and said, "On me alone, my lord, be the guilt. Please let your servant speak in your ears, and hear the words of your servant. 25 Let not my lord regard this worthless fellow, Nabal, for as his name is, so is he. Nabal is his name, and folly is with him. But I your servant did not see the young men of my lord, whom you sent. 26 Now then, my lord, as the Lord lives, and as your soul lives, because the Lord has restrained you from bloodguilt and from saving with your own hand, now then let your enemies and those who seek to do evil to my lord be as Nabal. 27 And now let this present that your servant has brought to my lord be given to the young men who follow my lord. 28 Please forgive the trespass of your servant. For the Lord will certainly make my lord a sure house, because my lord is fighting the battles of the Lord, and evil shall not be found in you so long as you live. 29 If men rise up to pursue you and to seek your life, the life of my lord shall be bound in the bundle of the living in the care of the Lord your God. And the lives of your enemies he shall sling out as from the hollow of a sling. 30 And when the Lord has done to my lord according to all the good that he has spoken concerning you and has appointed you prince over Israel, 31 my lord shall have no cause of grief or pangs of conscience for having shed blood without cause or for my lord working salvation himself. And when the Lord has dealt well with my lord, then remember your servant."
32 And David said to Abigail, "Blessed be the Lord, the God of Israel, who sent you this day to meet me! 33 Blessed be your discretion, and blessed be you, who have kept me this day from bloodguilt and from working salvation with my own hand! 34 For as surely as the Lord, the God of Israel, lives, who has restrained me from hurting you, unless you had hurried and come to meet me, truly by morning there had not been left to Nabal so much as one male." 35 Then David received from her hand what she had brought him. And he said to her, "Go up in peace to your house. See, I have obeyed your voice, and I have granted your petition."
36 And Abigail came to Nabal, and behold, he was holding a feast in his house, like the feast of a king. And Nabal's heart was merry within him, for he was very drunk. So she told him nothing at all until the morning light. 37 In the morning, when the wine had gone out of Nabal, his wife told him these things, and his heart died within him, and he became as a stone. 38 And about ten days later the Lord struck Nabal, and he died.
39 When David heard that Nabal was dead, he said, "Blessed be the Lord who has avenged the insult I received at the hand of Nabal, and has kept back his servant from wrongdoing. The Lord has returned the evil of Nabal on his own head." Then David sent and spoke to Abigail, to take her as his wife. 40 When the servants of David came to Abigail at Carmel, they said to her, "David has sent us to you to take you to him as his wife." 41 And she rose and bowed with her face to the ground and said, "Behold, your handmaid is a servant to wash the feet of the servants of my lord." 42 And Abigail hurried and rose and mounted a donkey, and her five young women attended her. She followed the messengers of David and became his wife.