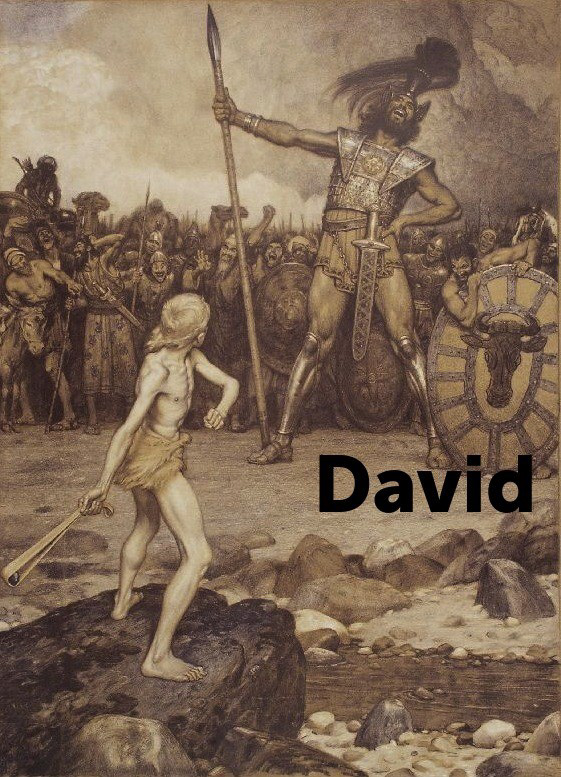 2 Samuel 17-18
Hushai Saves David
17 Moreover, Ahithophel said to Absalom, "Let me choose twelve thousand men, and I will arise and pursue David tonight. 2 I will come upon him while he is weary and discouraged and throw him into a panic, and all the people who are with him will flee. I will strike down only the king, 3 and I will bring all the people back to you as a bride comes home to her husband. You seek the life of only one man, and all the people will be at peace." 4 And the advice seemed right in the eyes of Absalom and all the elders of Israel.
5 Then Absalom said, "Call Hushai the Archite also, and let us hear what he has to say." 6 And when Hushai came to Absalom, Absalom said to him, "Thus has Ahithophel spoken; shall we do as he says? If not, you speak." 7 Then Hushai said to Absalom, "This time the counsel that Ahithophel has given is not good." 8 Hushai said, "You know that your father and his men are mighty men, and that they are enraged, like a bear robbed of her cubs in the field. Besides, your father is expert in war; he will not spend the night with the people. 9 Behold, even now he has hidden himself in one of the pits or in some other place. And as soon as some of the people fall at the first attack, whoever hears it will say, 'There has been a slaughter among the people who follow Absalom.' 10 Then even the valiant man, whose heart is like the heart of a lion, will utterly melt with fear, for all Israel knows that your father is a mighty man, and that those who are with him are valiant men. 11 But my counsel is that all Israel be gathered to you, from Dan to Beersheba, as the sand by the sea for multitude, and that you go to battle in person. 12 So we shall come upon him in some place where he is to be found, and we shall light upon him as the dew falls on the ground, and of him and all the men with him not one will be left. 13 If he withdraws into a city, then all Israel will bring ropes to that city, and we shall drag it into the valley, until not even a pebble is to be found there." 14 And Absalom and all the men of Israel said, "The counsel of Hushai the Archite is better than the counsel of Ahithophel." For the Lord had ordained to defeat the good counsel of Ahithophel, so that the Lord might bring harm upon Absalom.
15 Then Hushai said to Zadok and Abiathar the priests, "Thus and so did Ahithophel counsel Absalom and the elders of Israel, and thus and so have I counseled. 16 Now therefore send quickly and tell David, 'Do not stay tonight at the fords of the wilderness, but by all means pass over, lest the king and all the people who are with him be swallowed up.' " 17 Now Jonathan and Ahimaaz were waiting at En-rogel. A female servant was to go and tell them, and they were to go and tell King David, for they were not to be seen entering the city. 18 But a young man saw them and told Absalom. So both of them went away quickly and came to the house of a man at Bahurim, who had a well in his courtyard. And they went down into it. 19 And the woman took and spread a covering over the well's mouth and scattered grain on it, and nothing was known of it. 20 When Absalom's servants came to the woman at the house, they said, "Where are Ahimaaz and Jonathan?" And the woman said to them, "They have gone over the brook of water." And when they had sought and could not find them, they returned to Jerusalem.
21 After they had gone, the men came up out of the well, and went and told King David. They said to David, "Arise, and go quickly over the water, for thus and so has Ahithophel counseled against you." 22 Then David arose, and all the people who were with him, and they crossed the Jordan. By daybreak not one was left who had not crossed the Jordan.
23 When Ahithophel saw that his counsel was not followed, he saddled his donkey and went off home to his own city. He set his house in order and hanged himself, and he died and was buried in the tomb of his father.
24 Then David came to Mahanaim. And Absalom crossed the Jordan with all the men of Israel. 25 Now Absalom had set Amasa over the army instead of Joab. Amasa was the son of a man named Ithra the Ishmaelite, who had married Abigal the daughter of Nahash, sister of Zeruiah, Joab's mother. 26 And Israel and Absalom encamped in the land of Gilead.
27 When David came to Mahanaim, Shobi the son of Nahash from Rabbah of the Ammonites, and Machir the son of Ammiel from Lo-debar, and Barzillai the Gileadite from Rogelim, 28 brought beds, basins, and earthen vessels, wheat, barley, flour, parched grain, beans and lentils, 29 honey and curds and sheep and cheese from the herd, for David and the people with him to eat, for they said, "The people are hungry and weary and thirsty in the wilderness."
Absalom Killed
18 Then David mustered the men who were with him and set over them commanders of thousands and commanders of hundreds. 2 And David sent out the army, one third under the command of Joab, one third under the command of Abishai the son of Zeruiah, Joab's brother, and one third under the command of Ittai the Gittite. And the king said to the men, "I myself will also go out with you." 3 But the men said, "You shall not go out. For if we flee, they will not care about us. If half of us die, they will not care about us. But you are worth ten thousand of us. Therefore it is better that you send us help from the city." 4 The king said to them, "Whatever seems best to you I will do." So the king stood at the side of the gate, while all the army marched out by hundreds and by thousands. 5 And the king ordered Joab and Abishai and Ittai, "Deal gently for my sake with the young man Absalom." And all the people heard when the king gave orders to all the commanders about Absalom.
6 So the army went out into the field against Israel, and the battle was fought in the forest of Ephraim. 7 And the men of Israel were defeated there by the servants of David, and the loss there was great on that day, twenty thousand men. 8 The battle spread over the face of all the country, and the forest devoured more people that day than the sword.
9 And Absalom happened to meet the servants of David. Absalom was riding on his mule, and the mule went under the thick branches of a great oak, and his head caught fast in the oak, and he was suspended between heaven and earth, while the mule that was under him went on. 10 And a certain man saw it and told Joab, "Behold, I saw Absalom hanging in an oak." 11 Joab said to the man who told him, "What, you saw him! Why then did you not strike him there to the ground? I would have been glad to give you ten pieces of silver and a belt." 12 But the man said to Joab, "Even if I felt in my hand the weight of a thousand pieces of silver, I would not reach out my hand against the king's son, for in our hearing the king commanded you and Abishai and Ittai, 'For my sake protect the young man Absalom.' 13 On the other hand, if I had dealt treacherously against his life (and there is nothing hidden from the king), then you yourself would have stood aloof." 14 Joab said, "I will not waste time like this with you." And he took three javelins in his hand and thrust them into the heart of Absalom while he was still alive in the oak. 15 And ten young men, Joab's armor-bearers, surrounded Absalom and struck him and killed him.
16 Then Joab blew the trumpet, and the troops came back from pursuing Israel, for Joab restrained them. 17 And they took Absalom and threw him into a great pit in the forest and raised over him a very great heap of stones. And all Israel fled every one to his own home. 18 Now Absalom in his lifetime had taken and set up for himself the pillar that is in the King's Valley, for he said, "I have no son to keep my name in remembrance." He called the pillar after his own name, and it is called Absalom's monument to this day.
David Hears of Absalom's Death
19 Then Ahimaaz the son of Zadok said, "Let me run and carry news to the king that the Lord has delivered him from the hand of his enemies." 20 And Joab said to him, "You are not to carry news today. You may carry news another day, but today you shall carry no news, because the king's son is dead." 21 Then Joab said to the Cushite, "Go, tell the king what you have seen." The Cushite bowed before Joab, and ran. 22 Then Ahimaaz the son of Zadok said again to Joab, "Come what may, let me also run after the Cushite." And Joab said, "Why will you run, my son, seeing that you will have no reward for the news?" 23 "Come what may," he said, "I will run." So he said to him, "Run." Then Ahimaaz ran by the way of the plain, and outran the Cushite.
24 Now David was sitting between the two gates, and the watchman went up to the roof of the gate by the wall, and when he lifted up his eyes and looked, he saw a man running alone. 25 The watchman called out and told the king. And the king said, "If he is alone, there is news in his mouth." And he drew nearer and nearer. 26 The watchman saw another man running. And the watchman called to the gate and said, "See, another man running alone!" The king said, "He also brings news." 27 The watchman said, "I think the running of the first is like the running of Ahimaaz the son of Zadok." And the king said, "He is a good man and comes with good news."
28 Then Ahimaaz cried out to the king, "All is well." And he bowed before the king with his face to the earth and said, "Blessed be the Lord your God, who has delivered up the men who raised their hand against my lord the king." 29 And the king said, "Is it well with the young man Absalom?" Ahimaaz answered, "When Joab sent the king's servant, your servant, I saw a great commotion, but I do not know what it was." 30 And the king said, "Turn aside and stand here." So he turned aside and stood still.
David's Grief
Psalms 26, 40, 58, 61-62, 64
I Will Bless the Lord
26 Of David.
1    Vindicate me, O Lord,
for I have walked in my integrity,
and I have trusted in the Lord without wavering.
2    Prove me, O Lord, and try me;
test my heart and my mind.
3    For your steadfast love is before my eyes,
and I walk in your faithfulness.
4    I do not sit with men of falsehood,
nor do I consort with hypocrites.
5    I hate the assembly of evildoers,
and I will not sit with the wicked.
6    I wash my hands in innocence
and go around your altar, O Lord,
7    proclaiming thanksgiving aloud,
and telling all your wondrous deeds.
8    O Lord, I love the habitation of your house
and the place where your glory dwells.
9    Do not sweep my soul away with sinners,
nor my life with bloodthirsty men,
10    in whose hands are evil devices,
and whose right hands are full of bribes.
11    But as for me, I shall walk in my integrity;
redeem me, and be gracious to me.
12    My foot stands on level ground;
My Help and My Deliverer
40 To the choirmaster. A Psalm of David.
1    I waited patiently for the Lord;
he inclined to me and heard my cry.
2    He drew me up from the pit of destruction,
out of the miry bog,
       and set my feet upon a rock,
making my steps secure.
3    He put a new song in my mouth,
a song of praise to our God.
       Many will see and fear,
and put their trust in the Lord.
4    Blessed is the man who makes
the Lord his trust,
       who does not turn to the proud,
to those who go astray after a lie!
5    You have multiplied, O Lord my God,
your wondrous deeds and your thoughts toward us;
none can compare with you!
       I will proclaim and tell of them,
yet they are more than can be told.
6    In sacrifice and offering you have not delighted,
but you have given me an open ear.
       Burnt offering and sin offering
you have not required.
7    Then I said, "Behold, I have come;
in the scroll of the book it is written of me:
8    I delight to do your will, O my God;
your law is within my heart."
9    I have told the glad news of deliverance
in the great congregation;
       behold, I have not restrained my lips,
as you know, O Lord.
10    I have not hidden your deliverance within my heart;
I have spoken of your faithfulness and your salvation;
       I have not concealed your steadfast love and your faithfulness
from the great congregation.
11    As for you, O Lord, you will not restrain
your mercy from me;
       your steadfast love and your faithfulness will
ever preserve me!
12    For evils have encompassed me
beyond number;
       my iniquities have overtaken me,
and I cannot see;
       they are more than the hairs of my head;
my heart fails me.
13    Be pleased, O Lord, to deliver me!
O Lord, make haste to help me!
14    Let those be put to shame and disappointed altogether
who seek to snatch away my life;
       let those be turned back and brought to dishonor
who delight in my hurt!
15    Let those be appalled because of their shame
who say to me, "Aha, Aha!"
16    But may all who seek you
rejoice and be glad in you;
       may those who love your salvation
say continually, "Great is the Lord!"
17    As for me, I am poor and needy,
but the Lord takes thought for me.
       You are my help and my deliverer;
God Who Judges the Earth
58 To the choirmaster: according to Do Not Destroy. A Miktam of David.
1    Do you indeed decree what is right, you gods?
Do you judge the children of man uprightly?
2    No, in your hearts you devise wrongs;
your hands deal out violence on earth.
3    The wicked are estranged from the womb;
they go astray from birth, speaking lies.
4    They have venom like the venom of a serpent,
like the deaf adder that stops its ear,
5    so that it does not hear the voice of charmers
or of the cunning enchanter.
6    O God, break the teeth in their mouths;
tear out the fangs of the young lions, O Lord!
7    Let them vanish like water that runs away;
when he aims his arrows, let them be blunted.
8    Let them be like the snail that dissolves into slime,
like the stillborn child who never sees the sun.
9    Sooner than your pots can feel the heat of thorns,
whether green or ablaze, may he sweep them away!
10    The righteous will rejoice when he sees the vengeance;
he will bathe his feet in the blood of the wicked.
11    Mankind will say, "Surely there is a reward for the righteous;
Lead Me to the Rock
61 To the choirmaster: with stringed instruments. Of David.
1    Hear my cry, O God,
listen to my prayer;
2    from the end of the earth I call to you
when my heart is faint.
       Lead me to the rock
that is higher than I,
3    for you have been my refuge,
a strong tower against the enemy.
4    Let me dwell in your tent forever!
Let me take refuge under the shelter of your wings! Selah
5    For you, O God, have heard my vows;
you have given me the heritage of those who fear your name.
6    Prolong the life of the king;
may his years endure to all generations!
7    May he be enthroned forever before God;
appoint steadfast love and faithfulness to watch over him!
8    So will I ever sing praises to your name,
as I perform my vows day after day.
My Soul Waits for God Alone
62 To the choirmaster: according to Jeduthun. A Psalm of David.
1    For God alone my soul waits in silence;
from him comes my salvation.
2    He alone is my rock and my salvation,
my fortress; I shall not be greatly shaken.
3    How long will all of you attack a man
to batter him,
like a leaning wall, a tottering fence?
4    They only plan to thrust him down from his high position.
They take pleasure in falsehood.
       They bless with their mouths,
but inwardly they curse. Selah
5    For God alone, O my soul, wait in silence,
for my hope is from him.
6    He only is my rock and my salvation,
my fortress; I shall not be shaken.
7    On God rests my salvation and my glory;
my mighty rock, my refuge is God.
8    Trust in him at all times, O people;
pour out your heart before him;
God is a refuge for us. Selah
9    Those of low estate are but a breath;
those of high estate are a delusion;
       in the balances they go up;
they are together lighter than a breath.
10    Put no trust in extortion;
set no vain hopes on robbery;
if riches increase, set not your heart on them.
11    Once God has spoken;
twice have I heard this:
       that power belongs to God,
12        and that to you, O Lord, belongs steadfast love.
       For you will render to a man
Hide Me from the Wicked
64 To the choirmaster. A Psalm of David.
1    Hear my voice, O God, in my complaint;
preserve my life from dread of the enemy.
2    Hide me from the secret plots of the wicked,
from the throng of evildoers,
3    who whet their tongues like swords,
who aim bitter words like arrows,
4    shooting from ambush at the blameless,
shooting at him suddenly and without fear.
5    They hold fast to their evil purpose;
they talk of laying snares secretly,
       thinking, "Who can see them?"
6        They search out injustice,
       saying, "We have accomplished a diligent search."
For the inward mind and heart of a man are deep.
7    But God shoots his arrow at them;
they are wounded suddenly.
8    They are brought to ruin, with their own tongues turned against them;
all who see them will wag their heads.
9    Then all mankind fears;
they tell what God has brought about
and ponder what he has done.
10    Let the righteous one rejoice in the Lord
and take refuge in him!